The UGA School of Social Work is Located in an Antebellum Cotton Mill
The building that now houses the UGA School of Social Work at 279 Williams Street in Athens, Georgia, was once the Athens Manufacturing Company—commonly known as the "Athens Factory." It was first built (almost certainly by enslaved labor) in 1833 to turn slave-produced cotton and wool into thread and cloth. The factory continued operating as a textile mill until the 1920s when it closed permanently. The building later served as a warehouse, a call center, a gymnasium, and a saloon before being renovated in 2008 to house the university's Medical Partnership. Since 2015, it has been the home of the UGA School of Social Work.
According to the Southern Watchman, the 1857 fire was believed to have been "the work of an incendiary," a 19th-century figure of speech suggesting arson.
During its years as a cotton mill, the factory was seriously damaged three times by catastrophe—by fire in 1834 and 1857, and by flood in 1840. Each time, the investors rebuilt and the factory recovered. The building the School of Social Work occupies now was built on the foundations of the old factory after the 1857 fire.
The Athens Manufacturing Company grew quickly, and by 1850 it was larger than Clarke County's two other cotton mills: the Princeton Mill near Five Points and the factory at Whitehall. The Civil War was a period of significant growth for the company, and they reaped huge profits weaving flannel for Confederate soldiers' underwear, wool jeans for their uniforms, cotton duck for tenting, and more. In 1870, company stockholders expanded their business again by purchasing the former Cook and Brother Confederate Armory (now UGA's Chicopee Building). The new factory, known commonly as "the Check Factory," became the company's weaving hub, while the Athens Factory remained central for storage and thread production. Once both factories were operating, factory employees transported thread and cloth between the facilities by boat on the North Oconee River.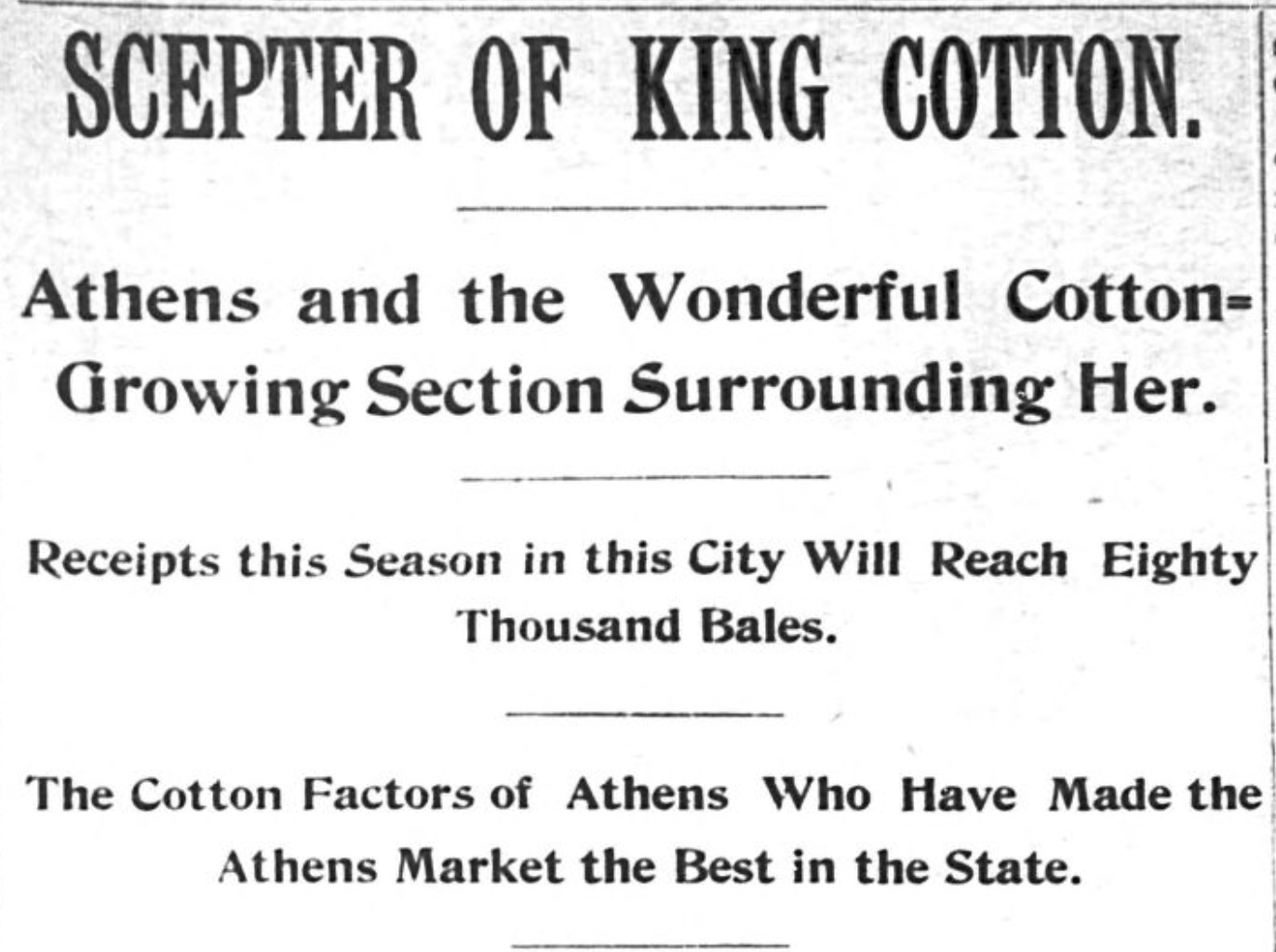 All of this success was made possible by cotton. According to Henry Hull who was a child during Athens' early years, the first local cotton was planted by one of Athens' first settlers, Daniel Easley, near the banks of the North Oconee near the current site of UGA School of Social Work. Cotton caught on and there are many local accounts of cotton growing in yards and fields all over the area that is now Athens. Athens was also a major cotton market.