The Athens Factory produced Yarns, Linseys, Checks —also clothing for enslaved people and Confederate Uniforms
The cotton factory on Williams Street opened for business in 1833 to mill local cotton, to deploy enslaved labor, and to provide, according to The Athenian, "the best materials…at lower rates than can now be obtained at the north." Established as the Athens Cotton and Wool Mill, it was reorganized as the Athens Manufacturing Company in 1835, and was always known locally as the Athens Factory. Over time, it produced yarns, linseys, checks, Confederate uniforms, and a variety of fabrics marketed to enslavers for use in clothing their human property.
Buckingham described the Athens Factory fabric as a "cloth of coarse qualities for local consumption" (p. 112). Among this cloth produced for local use were multiple fabric intended to be used by enslavers to clothe their human property. In this 1840 advertisement, the factory is marketing cotton osnaburgs and linseys for winter.
For the Confederate Army, the factory wove flannel for soldiers' underwear, wool jeans for their uniforms, cotton duck for tenting, and more. The Athens Factory made huge profits off of their war efforts, and they were able to issue sizable dividends to their investors of at least 25% every 6 months during the war. Finally, in February 1865 they paid a dividend of an astonishing 250 percent. (For more on this see Michael Gagnon's (2012) Transition to an Industrial South.) In this 1863 notice, the factory announced that it was so overwhelmed by the volume of dyeing work for the [Confederate] government, that all other work had to be suspended.
The company also harnessed the North Oconee's power to produce flour for Athens' citizens and meal for their livestock. The Athens Manufacturing Company's flour mill sat right across the North Oconee and below the dam from the Athens Factory on Daniel Easley's former site. At the end of the war in 1865 when so many families were struggling, Robert Bloomfield advertised that flour and meal would "be returned free of charge." This photo by David Earnest shows the mill after it was abandoned in the early 1900s.
After the Athens Manufacturing Company acquired the Cook and Brother Armory in 1870, it moved its weaving production up the river to the new facility and began producing finer weaves. The company became well known for its "heavy Georgia checks." The Athens Factory (now also called "the Lower Factory") shifted its focus to spinning thread.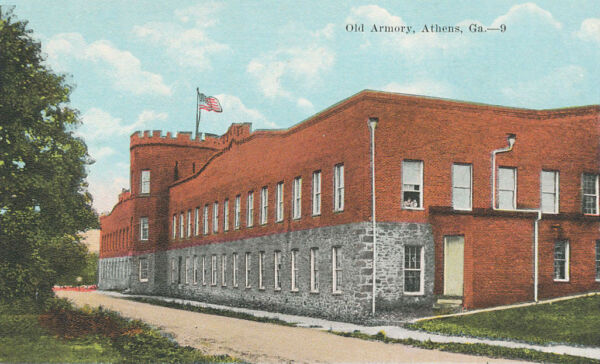 The Check Factory experienced quick success, and they won "Best Ginghams" at the 1876 Southern States Agricultural and Industrial Exhibition in New Orleans. In December 24, 1889, it was front-page news in the Weekly Banner that the factory's "checks, cottonades, and plaids" were being shipped to Detroit, Chicago, and Nashville and that "the largest firms in the country bought their goods."
Images from Chicopee Manufacturing Company records, Hargrett Library, UGA